A letter from Matt Michaelis, Chairman & CEO, about Emprise Bank's financial stability.
Read More
Safely tap to pay with an Emprise Bank contactless debit card. Add your debit card to your mobile wallet for added convenience.
A safe and convenient way to pay.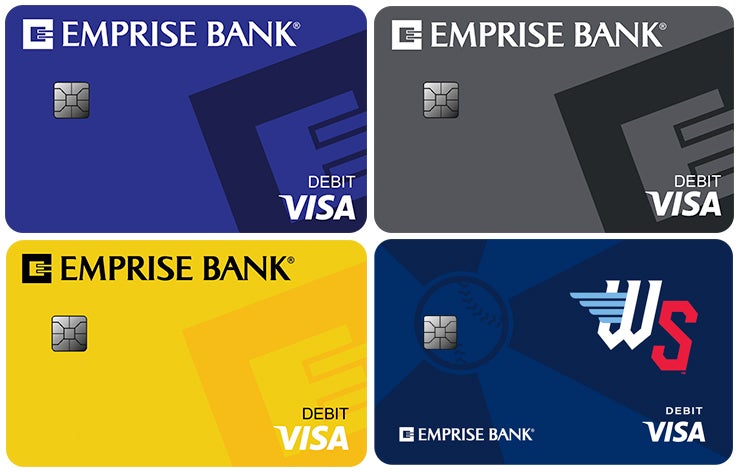 Choose from our debit card designs when you open a new checking account.
To change design or replace a damaged card, click to chat or give us a call at 855.383.4301.
Tap to pay at checkout counters that support contactless technology.
It's fast – Your payment is processed in seconds
It's easy – Simply tap your card on the checkout terminal to make a purchase
It's secure – Enjoy the same security as chip cards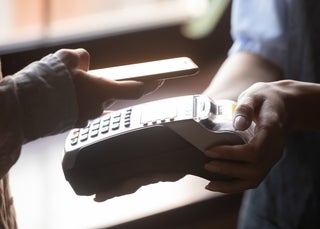 Mobile Wallet
Pay with the tap of your Apple®, Android™, or Samsung phone. Simply load your Emprise Bank credit or debit card into your phone's mobile wallet platform and you're ready to make purchases in-store, online, and in-app. You can even use it to pay a friend for your half of the pizza or rent. Mobile wallet transactions don't use your card number or require a pin, so you pay securely and with confidence. 
Apple, the Apple logo, and Apply Pay are trademarks of Apple Inc., registered in the U.S. and other countries.
Google Pay is a trademark of Google LLC.
Samsung Pay is only compatible with select cards, carriers, and Samsung devices. See Samsung.com/pay for compatibility. Samsung and Samsung Pay are trademarks or registered trademarks of Samsung Electronics Co., Ltd. Other company and products names mentioned may be trademarks of their respective owners. Screen images are simulated; actual appearance may vary. Samsung Pay is available on select Samsung devices. SecurLOCK Equip
Control and monitor your Emprise Bank debit card with the free mobile app, SecurLOCK Equip. Protect your debit card from fraud by setting up real-time alerts & controls so you can know when and how your card is being used.
With SecurLOCK Equip, you can:
Prevent fraud by turning off your Emprise Bank debit card if it is lost or stolen
Control spending by setting limits on withdrawals or transactions
Customize spending ability by online, mobile or in-store purchases
Block international or out-of-area transactions
Download the SecurLOCK Equip app: