Scheduled Maintenance: Digital banking will be unavailable on Sunday, December 10, 2023, from 5:00am - 6:00am for scheduled maintenance.
Routing Number: 101100579
Routing Number: 101100579
Business Checking offers a wide range of electronic options for those who prefer the flexibility and convenience of being able to bank on the go.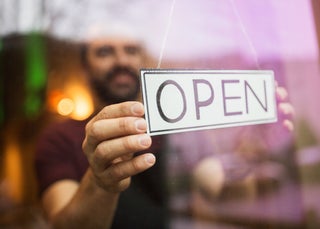 Benefits:
150 free debits, credits & deposited paper items per month; 15¢ per item thereafter
Unlimited online and mobile transactions
$10 monthly fee can be waived by either:

Average daily deposit balance of $2,500 or
50¢ fee reduction each time you use your business debit card, up to $10 a month

Offset up to an additional $10 in fees* when both the average monthly balance requirement is met and debit card transactions occur
Overdraft Privilege is available
Digital banking (eBusiness Access) included
*Excess items fees, bill pay fees and international wire fees only.
Start your checking experience with us today.