Scheduled Maintenance: Digital banking will be unavailable on Sunday, December 10, 2023, from 5:00am - 6:00am for scheduled maintenance.
Routing Number: 101100579
Routing Number: 101100579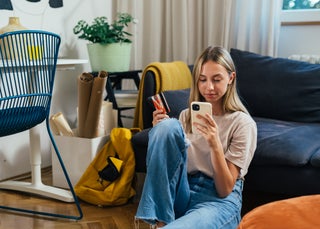 Ace your finances with A+ features.
No monthly fee
$25 deposit to get started
Use your debit card to access a network of 55,000 surcharge-free ATMs (no silly fee to access your money on a network ATM)
Automatic (and free) transfers from a linked savings account when funds run low
No overdraft fee because we've got your back
Checkless account (because who really writes checks these days)
Designed for ages 10-23 with automatic graduation at age 24 to another free account for the next stage in your financial journey
Independently open the account yourself if you're 14+ (no co-owner needed)
Online account opening limited to ages 14 and up. Contact us to open if under the age of 14. At the age of 24, the Student Checking account will transition to a Cash Back Checking account. Minimum deposit to open is $25. Maximum deposit to open online is $100. No monthly fee. Non-interest bearing. No checks will be issued. eStatement enrollment is preferred. The Overdraft Privilege service is not available for this account.
Tools to set you up for success
Resources
Keep track of spending as a student